So I just completed (hopefully) the last test of my job-related capabilities yesterday morning - an oral examination in front of a five-member panel at the State Capitol. Ouch. I stressed out so hard and then it went fine (I think! I'll hear the results later this week...). That's been on my mind quite a bit, though. Afterwards the Frau was kind enough to take me out for some restorative pho at my favorite joint, Pho Cuong. Thank you, Frau!

What has also been on my mind is bug damage! In addition to Those Little Bastards the Flea Beetles and the cabbage worms of yore, I've been struggling with the explosion of spider mites and aphids that accompanies hot weather. For whatever reason their numbers hit the bigtime when it it gets hot. So this morning I was out spraying with a hot pepper and soap spray which I let sit for an hour or so and then rinsed.


Flea Beetle Bastards

(image courtesy http://www.gardenplotter.com/rospo/blog/2007_06_01_archive.html)



I've also seen the first monarch caterpillars of the season, so beware! I frequently find them on my dill, fennel, and parsley - and those voracious buggers can take a plant down in a day or two! So watch out for them, but please don't kill them! Relocate to a plant you don't mind having gnawed on...
Tree-of-heaven
, anyone?
(image courtesy: http://www.richard-seaman.com/Arthropods/Usa/Caterpillars/NorthernIllinois/index.html)

I pulled a bunch of harlequin bugs off of my broccoli plants, which I finally decided to pull up, as well. I cut them off at the stalk with the hare-brained idea that I might be able to "over-summer" them until this fall if I cover them with enough compost and humus. They'll probably die, true, but it's worth the experimental value!
Harlequin bugs - nothing funny about 'em!
(image courtesy: http://www.geocities.com/green_cache/beetles.html)


Naturally I've also picked and killed several of these dudes, the famed Cucumber Beetle of Death!
(image courtesy http://www.mastergardeners.org/tips/july.html)


(Be careful - there's a multi-spotted ladybug with this spot pattern but a red background, which looks very similar!)
(image courtesy http://www.hort.uconn.edu/Ipm/veg/htms/cukbtltcrop.htm)

The stink bugs have been hiding out in the
cat-face scars
on some of my larger tomatoes. Those cheap opportunistic bastards! Seriously, if you have deeply dimpled tomato fruit, check it for stink bugs, you might find some! I've found them in green and gray chez Lewru. There are also a greyish-red-brown stinkbug that is predatory and eats Mexican Bean Beetle nymphs, so be sure you know what you're about to smash. I'm just sayin'...
(image courtesy http://insects.tamu.edu/extension/youth/bug/bug034.html)

I also saw one of these guys... beautiful but not a friend 'o the jardin!
Candy-Striped Leafhopper
(image courtesy http://jimmccormac.blogspot.com/2007/09/candy-striped-leafhopper.html)
And these guys will not leave me alone!
Domed Death Machine (i.e. snail)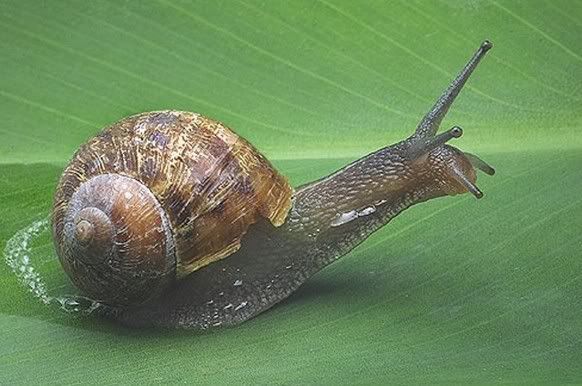 (image courtesy http://www.gardenplansireland.com/forum/about100.html)

Nasty folks I haven't seen around here yet:
(image courtesy http://www.duke.edu/~jspippen/naturephotos/beetles.htm)
Mexican Bean Beetle - no this is not a yellow lady bug

(image courtesy http://www.ca.uky.edu/entomology/entfacts/ef105.asp)



Squash bug
(image courtesy http://mdvegetables.umd.edu/)



(image courtesy http://www.whatsthatbug.com/moths_5.html)
(In fact, I haven't seen the squash vine borers but I probably have them as one of my Eight-Ball zucchini was taken out recently and the stem was all exploded and gross with orange mush inside...I heard those guys add this sort of injury to insult. And incidentally, Frau, this isn't what we saw on your zucchini is it?)
Resulting damage from teeny-weeny bugs:
Aphid Damage (leaves are sticky, yellowing and may have brown spots, may be distorted in shape)
(image courtesy http://www.ces.ncsu.edu/johnston/homehort2/pests.html)

(image courtesy http://www.naturescontrol.com/mite.html)
Leafhopper Damage (look for pale veins, marginal yellowing, and downward curl)
And, naturally, there are rollie-pollies and mosquitoes and june bugs and grasshoppers and the like, but you don't really need pictures of those for identification, do you?
It's important to know your bugs, folks! Be aware of who you have visiting your garden. It's not hard for one or two interlopers to turn into an infestation. If you want to be able to reliably produce your own grub, get rid of your grubs!
Okay, enough of that. Be looking for a follow-up to this post entitled "Please don't kill that bug!"